SPEND LESS.
LIVE MORE.
Article delivers beautifully designed modern furniture, with outstanding attention to detail, at fair prices.
The idea behind Article came together on an adventure north of the Arctic Circle. Four software engineers, inspired by the beauty and challenged by the unfamiliarity of the environment resolved to radically change the way that people shop for furniture.
The founders and furniture industry outsiders laid the foundations of a new kind of furniture company - a company founded on a shared appreciation of simplicity and efficiency.
How we do it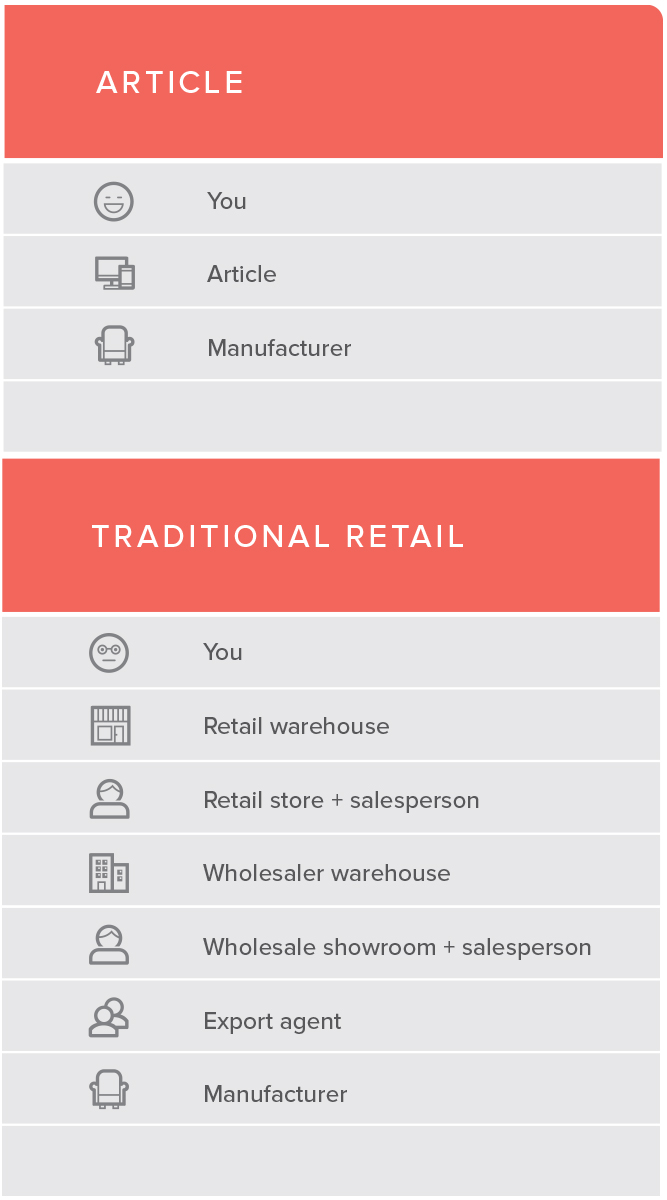 No showrooms. No salespeople. No unnecessary layers.
Since 2014, we have worked with some of the world's best designers and manufacturers to bring a curated selection of beautiful furniture to thousands of happy customers across North America.
We pack your new furniture with care and deliver direct to your door across the contiguous U.S. and Canada for one flat fee of just $49.
Your whole experience is backed by our friendly customer support team and a 30-day, no questions asked guarantee.
What we believe
Article was founded on five core principles:
Be Direct
Peel back unnecessary layers and eliminate inefficiency. We aim to draw the straightest possible line between two points.
Be Better
The way things have always been done isn't the way things should always be done. Challenge the status quo and strive for constant improvement.
Be Good
The way we do things matters as much as the end result. We aim to do the right thing, treating our customers, suppliers, and each other with care and respect. Optimize for delight, not just profit.
Be Genuine
We value sincerity and authenticity. The people behind Article are real people that want to make the world a more beautiful and comfortable place.
Be Adventurous
We are optimistic about the future, and know that to get there we will need to try things that haven't been tried before.
The Particles
What do you call a group of people working to bring beautiful articles of modern furniture to your home?
We've come to call ourselves The Particles. No, not a 60s rock 'n' roll band, but the People of Article. Each with a small - but important - job to do in ensuring that Article delivers on our promise to bring you beautiful, modern furniture at fair prices.
Together, the Particles make up our friendly (and growing!) team, with offices in Vancouver, Canada and warehouses in Seattle, Los Angeles, New Jersey and Jacksonville.

The founders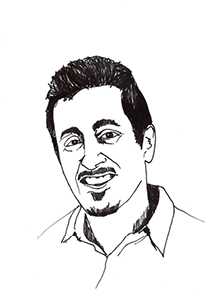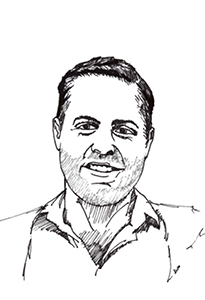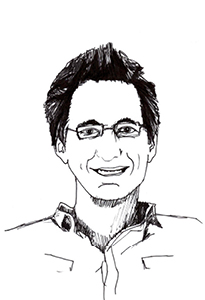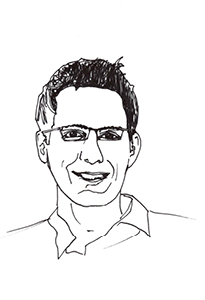 Aamir Baig has lived around the world in countries as diverse as Pakistan, China, England and Canada. He's a global wanderer, an adventurer in business and a fully engaged father of two adorably cute children. If Aamir wasn't working today, he'd be playing cricket. Aamir is the CEO and Managing Director of Article.
Fraser Hall is developing technological instruments, fashion retail and property development. He's an avid sailor, an activist for the health of our oceans and a former captain of the Sea Shepard, with appearances on the TV documentary, Whale Wars. Yes, he lives a life far too large to squeeze into this small space.
Andy Prochazka is a hands-on technology guy. He started his career in consumer electronics and now has a company that designs and builds medical devices for life-changing neurological injuries, like strokes and spinal cord injuries. For fun, he speaks Chinese, loves to write and do carpentry projects.
Sam Prochazka is happiest creating new business ideas, whether they're in software development or on-line retail. In between the cracks, he learns languages (Spanish, at the moment) and is a history buff. His best day ever? Traveling to the ends of the Earth where there are no tourists.
Aamir Baig, Fraser Hall, and brothers Sam and Andy Prochazka each share a passion for adventure, a history of entrepreneurship and innovation, and a desire to make the world a better place. Together they regularly embark on adventures and build incredible things, like Article.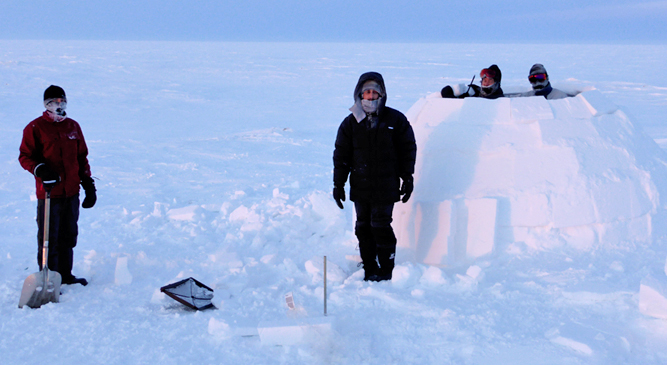 The Article founders north of the Arctic Circle, in Tuktoyaktuk in the Inuvik Region of the Northwest Territories, Canada.