Delivery by Christmas
We'll make every attempt to deliver your articles by the end of day on the 24th of December.
This delivery promise applies only to in-stock articles that display this banner. If your order contains items not included in this promotion we may not be able to deliver your entire order in time.
Very occasionally things happen that are beyond our control that cause delays. For example: extreme weather, mechanical failure on a delivery vehicle, or being unable to contact you to confirm a delivery time. In the unlikely event we are unable to deliver before Christmas we'll organize delivery as soon as possible after Christmas. We'll also refund any delivery fees.
Happy holidays from the Article team.
Equal parts luxurious coffee table and sumptuous ottoman. The Diamond ottoman can be paired with like-velvet pieces for a statement centerpiece of your living room
Features
---
Sturdy, corner blocked wooden frame
High density foam with polyester filling
Cotton Velvet upholstery
Pirelli webbing
Dimensions
---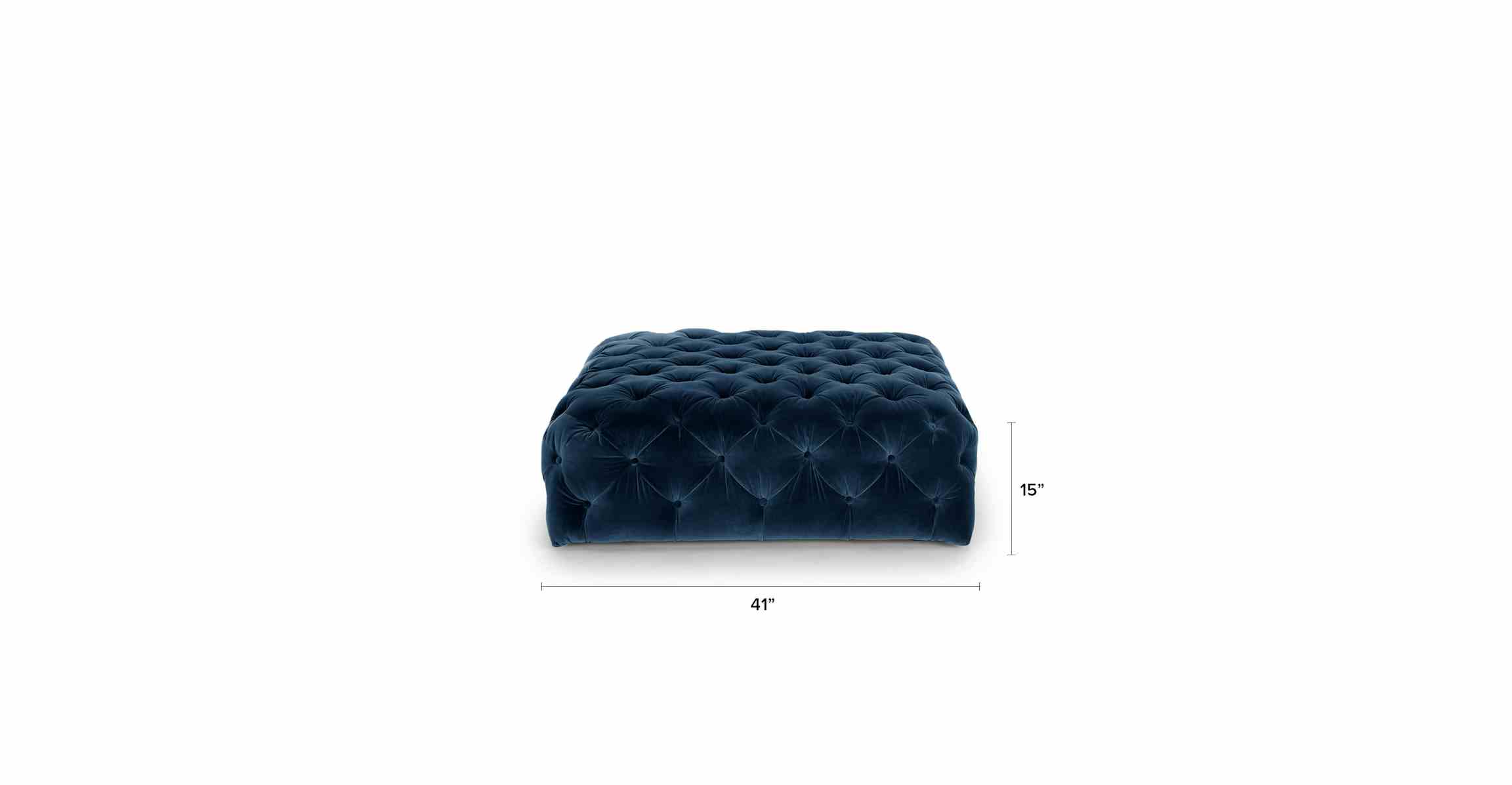 Construction
---
| | |
| --- | --- |
| Style/Type | Tufted velvet ottoman / modern ottoman |
| General Dimensions | 15"H x 41"W x 41"D |
| Weight (lbs) | 45 |
| Upholstery Color | Cascadia Blue |
| Materials | Kiln dried solid wood, high density foam, Velvet fabric - 85% Cotton 15% Polyester, Martindale test - 40,000 rubs |
| Care | Fabric - dry clean only. Keep out of direct sunlight, prolonged exposure will cause fabric to fade. |
| SKU No. | SKU375D |
---
Equal parts luxurious coffee table and sumptuous ottoman. The Diamond ottoman can be paired with like-velvet pieces for a statement centerpiece of your living room
Construction
| | |
| --- | --- |
| Style/Type | Tufted velvet ottoman / modern ottoman |
| General Dimensions | 15"H x 41"W x 41"D |
| Weight (lbs) | 45 |
| Upholstery Color | Cascadia Blue |
| Materials | Kiln dried solid wood, high density foam, Velvet fabric - 85% Cotton 15% Polyester, Martindale test - 40,000 rubs |
| Care | Fabric - dry clean only. Keep out of direct sunlight, prolonged exposure will cause fabric to fade. |
| SKU No. | SKU375D |
Features
Sturdy, corner blocked wooden frame
High density foam with polyester filling
Cotton Velvet upholstery
Pirelli webbing
---